Corruption Perceptions Index 2009
Nov 17 (Reuters) - Transparency International released on Tuesday its 2009 Corruption Perceptions Index (CPI), a ranking of 180 countries based on perceived levels of public sector corruption.
The CPI scores countries on a scale of zero to 10, with zero indicating high levels of corruption and 10, low levels. Below are the countries with the best and worst scores in the 2009 index and their comparative scores for 2008 and 2007.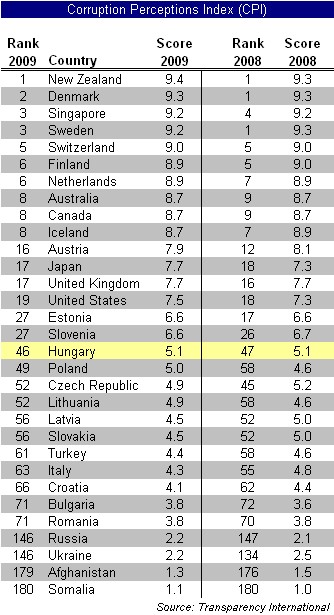 What is the Corruption Perceptions Index?
The Corruption Perceptions Index (CPI) measures the perceived level of public-sector corruption in 180 countries and territories around the world. The CPI is a "survey of surveys", based on 13 different expert and business surveys.
-The Corruption Perceptions Index (CPI) table shows a country's ranking and score, the number of surveys used to determine the score, and the confidence range of the scoring.
-The rank shows how one country compares to others included in the index. The CPI score indicates the perceived level of public-sector corruption in a country/territory.
-The CPI is based on 13 independent surveys. However, not all surveys include all countries. The surveys used column indicates how many surveys were relied upon to determine the score for that country.
-The confidence range indicates the reliability of the CPI scores and tells us that allowing for a margin of error, we can be 90% confident that the true score for this country lies within this range.
Philippines' rank: 139th of 180 countries.
To all government leaders: Please account for the country's ranking.
To all Filipino citizens: Would you still vote for them?

More details on the index can be found at www.transparency.org